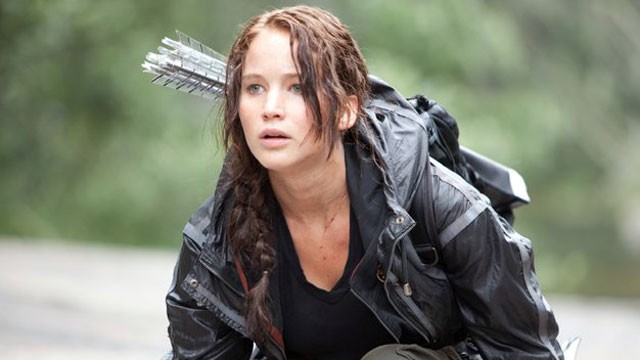 W

ell I'm not as hu
ngry as I used to be after last Friday evening. Hard to believe it's almost been a week ago. I'm still feeling it. I'm trying to look at the bright side of what happened.
S

o my daughter's friends were v
ery excited about going to see a movie. Most of her friends had read all of the books. Her best friends had even bought the clothing. All of their hair is now like "her" hair. Can you guess the movie? Yes, The Hunger Games.
W

hen these books first came out, the only reason I knew anything about the first book was my involvement in book fairs. I coordinate book fairs for elementary and middle school. This book was one of those books heavily promoted. All the kids loved it. I, at the time, had only briefly read the back cover. At the warehouse sale I picked up all three because kids were falling in love with them.
T

his was awesome news for me. I have a son who, at the time, was required to read a certain amount of books during the school year. I knew that he wasn't anywhere close to his goal of 25. How did I know, you ask? Since I coordinate book fairs, I am close with the Media Specialist. The Media Specialist, in conjunction with his reading teacher, knows what he has read. It's good to be involved.
E

very kid, okay every kid from 10-15, was raving about the book. Parents were letting me know that their nonreader blew through the books. Blew through the books! YES! OMG, it is so difficult to find something for my son to read so this was a no-brainer.
I

bought the books, brought them home and proudly laid them on his bed. He comes home from school and I say, "I bought you something today. I laid it on your bed." His eyes lit up a little too quickly. Maybe I shouldn't have been so enthusiastic.
H

e looked at the back cover and said, "No." I said in one breath, "What do you mean? All the kids love these books!" "Just try to read it!" He replied by saying nothing. The book just sat at the end of the bed until he put then on the bookshelves in the living room. Oh well, I tried. I'm always trying.
H

is sister found out about the books after her friend talked about how good they were. She couldn't put the book down. In a short amount of time she had blown through all of the books. I was impressed. She was a nonreader just like my son. She couldn't get enough of these books. For Christmas she was given the last of the series along with a "Hunger Games" t-shirt. Her sister, the reader of the two, followed suit.
B

oth talked to my daughter. They also talked to another friend. They were all pretty intoxicated with the characters just by discussion, not because all of them had read the books. It was kind of cute. It was kind of cute until the movie started.
T

he other moms and I decided to go out to dinner before the movie. The timing was a bit tricking. We agreed on 5:30 @ Zaxby's. Zaxby's would be quick. Apparently there would be a tremendous waiting period. WHAT! I had already purchased the tickets. Actually WE had already purchased the tickets AND picked them up. One of the friends knows about the chaos and frenzy associated with the release of movies that have this much of a following. We arrived a hour and a half before the movie started. There were people already lined up outside of theater. Already outside of the theater! No, seriously. I'm not talking about he people standing in line to purchase the tickets. This was the line INSIDE of the the theater. We were already 6 deep on both sides of the doors leading into the actual theater. It was CRAZY!
T

his will have to be continued...